Order Snowdrops in the green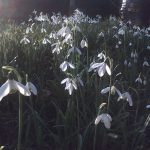 Snowdrops in February sunshine
With spring rapidly approaching there are still a couple of weeks left to buy Snowdrops in the green.
Early flowering bulbs such as Snowdrops provide a vital source of nectar and pollen for insects such as bees as they emerge from hibernation on warmer late winter days. The video below was filmed on 17th February 2017 and demonstrates this nicely.
To order Snowdrops in the Green
The deadline for purchasing Snowdrops "in the green" from us is usually  February 28th and bulbs will be dispatched around mid-March. For further details and to order please click here.
To discover more about planting Snowdrops in the green please read our full article here.