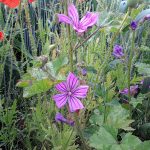 With spring fast approaching, we have added some interesting new varieties to our range of individual wildflower seeds for 2017.  These include:
Dyer's Chamomile                       Enchanter's Nightshade
Many of these varieties will provide a vital source of nectar for  Bees and other wildlife. Please click the links above to discover how these plants  can be introduced into wildflower gardens and other habitats.
To view our full range of over 160 individual wildflower seeds please click here.