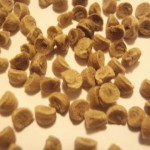 We are pleased to announce that we have added the following species to our range of wildflower seed packets for 2016 :-
Chicory, Charlock, Common Field Speedwell, Common Fumitory, Dandelion, Feverfew, Tree Mallow,  Wild Parsnip, and Wood Forget-me-not.
With now well over 150 Native British wildflower seeds available to order, we  offer  one of the most extensive ranges of  wildflower seed packets in the u.k.  Within our range you will find wildflower seed for virtually  every habitat type likely to be encountered. All species are fully hardy and will survive  the severest of the British climate, including snow and frosts. We also offer many wetland species that will tolerate regular water-logging and floods.
Seeds supplied by weight
All of are wildflower seed packets contain seed measured by weight. This ensures that customers receive a good quantity of seed in every packet (generally a minimum of 1 gram per packet). This is very important because certain wildflower seeds can be erratic to germinate.  Packets that contain a good quantity of seed offer our customers a much greater  chance of success. Many of our wildflower species can also be ordered in bulk quantities of 100 grams or more.
Wildflower seed of guaranteed native British provenance.
Some of our wildflower seeds are  grown ourselves from seed originally collected from wild populations. Where this is not possible wildflower seeds is sourced  from reputable  u.k. wildflower seed suppliers or directly from wildflower seed producers.
Ordering Wildflower seed packets
Our website has a powerful built in search. If you enter a color, habitat or soil type eg. clay  into the product search box our website will suggest suitable wildflower seed packets as well as plugs, mixes and bulbs. To start your search please click here.  All orders are supplied with sowing guidelines. Please visit our website for more detailed advice on germinating wildflower seeds that we sell.