Free wildflower seeds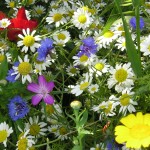 This winter,  we will dispatch 10 grams  of free wildflower seeds with all orders received over £10 (ex. postage)  Offer applies to all orders received on or before 29.02.2016 and free seeds will be sent together with other  items ordered are soon as they are ready for dispatch.
Spring or autumn is the perfect time for sowing mixtures of Cornfield annuals. These quick and easy to grow seeds will normally be in full flower by June or July following an early spring sowing.
Each packet contains a mixture of annual wildflower seeds including Corn Chamomile, Corn Marigold Corn Cockle, Corn Poppy  and Cornflower seeds and will produce a spectacular display of White, Red, Blue and Pink in early summer. In late summer the display will turn a beautiful golden-yellow as Corn Marigold begins to dominate. Corn field annuals will attract a wide range of insects such as Butterflies and Bees and after flowering the seed-heads will be visited by birds such as Goldfinches. Each packet contains enough seed to cover approximately 5 square metres.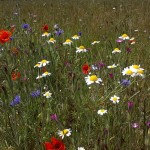 How to sow your free wildflower seeds
Unlike other wildflowers, cornfield annuals can be grown on rich fertile soils where they will normally grow more strongly and produce a better display. Seeds should be sown onto a carefully prepared, bare, weed-free seed bed in March or April. If possible choose a site in full sunlight and a light soil that is well drained. It is important to note that corn field annuals will not work if sown directly into established grass. Free sowing and maintenance instructions will also be dispatched with all orders.
To view our full range of Wildflower seeds, Meadow seed mixtures, Wildflower Plug plants and bulbs please click here.
 To download a copy of our online wildflower manual containing useful sowing tips for Cornfield annuals and other wildflowers please click here.