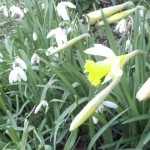 We are currently running an autumn offer on all varieties of wildflower bulbs while stocks last. Buy 10 Wildflower bulbs of any species and you will receive an extra 5 free of charge (a total of 15 bulbs). Please click here to view prices and further details.
Varieties include Bluebells, Snowdrops, Star of Bethlehem, Wood Anemone, Winter aconites, Summer Snowflake, Snake's head fritillary, Wild Garlic, Wild Tulip and Wild daffodils. All Wildflower bulbs can be successfully planted out until the end of November, and in various combinations to form beautiful spring meadow or woodland glade settings next season.
Use of Wildflower Bulbs
Try combinations of Bluebells, Snowdrops, Wood Anemone and Winter aconites to form a succession of early spring flowers for a woodland setting. These bulbs will also work well planted under small trees or alongside a north or east facing hedge or fence wherever there is some shade.
To form a spring flowering meadow, perhaps in brighter areas with grass, try planting out combinations of Star of Bethlehem, Snowdrops,  Wild Tulips and Wild daffodils. If the soil is moist,  it may also be possible to include Summer Snowflakes and even Snake's head fritillaries for a beautiful spring display.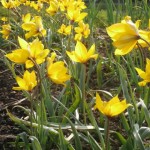 Many Wildflower bulbs are rich in pollen, so will provide a perfect nectar source for bees and other insects emerging from winter hibernation.
Further details
All our wildflower bulbs will be dispatched with a free copy of our wildflower manual containing planting instructions. If the weather is bad, wildflower bulbs can be kept for several weeks if stored carefully, until planting conditions improve.
We also have current offers on Wood Anemone rhizomes and half price Bluebell seeds.
Please check our blog and Bulb listings page for details of any further offers on  wildflower bulbs during November.
Please note all offers are subject to availability whilst stocks last.