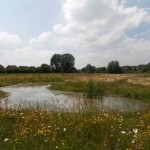 Buying Wildflower seeds for large areas
If you are wondering where to buy wildflower seeds in bulk, you have reached the right place. Here at wildflowers uk we sell all of our wildflower seeds and wildflower seed mixes by weight, which enables us to offer greater discounts for bulk wildflower seeds and bulk wildflower seed mixes.
Uses for Bulk Wild flower seed
Applications for large quantities of wild flower seed are many and varied, and include landscaping of parks, golf courses, urban areas, communal areas, business parks and waste ground. Bulk wildflower seeds can also be used to create conservation headlands and wildlife areas on farmland.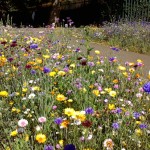 Things to consider before you buy wildflower seeds in bulk
Before you buy  wildflower seeds in bulk we strongly recommend making a thorough, detailed comparison of various mixtures available. We publish details of all our seed mixtures and bulk wildflowers for sale on our website. This enables our customers to research exactly which species of wildflower seeds will be included in our mixtures, and in what percentages, before making a purchase. The cost of individual wildflower seeds within mixes can vary widely, so it is very important to look for which species are included or omitted. Take particular care to note whether any percentages quoted are by seed weight or by seed number. This is important because wildflower seeds come in many different sizes. As an example,  "5 % of Primrose seed by weight"  in a mix could contain a considerably different quantity of Primrose seed to a mixture quoting  "5 % of Primrose seed by number". All percentages quoted on our website at wildflowers uk will always be by seed weight which is the most commonly used description. Wildflower seed mix specifications can be very varied and our advice is to  ensure  specifications are always clearly stated in full and be wary of mixtures which claim to have  large numbers of individual species, as this  is not necessarily of great benefit.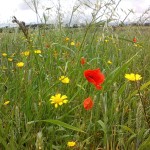 Ordering bulk wildflower seeds from wildflowersuk.com
We have over 20   years of experience supplying  wildflowers in bulk to many customers such as local councils and authorities, landscapers, and wildlife trusts, and offer free telephone advice and help. Whilst we have a wide range of bulk wild flower seed available to purchase through our website, we are also happy to quote for custom mixtures. For a written quotation please email or fax us the specification of the mix you require clearly stating the the species required, together with individual percentages and whether they are by seed weight or number.